School Shirts - Class T-Shirts - Design Tips
A great way to up inter-class school spirit is to have stylish t-shirts for your class to wear. Custom t-shirts are also a staple for school clubs and aid in the bonding experience. Create great looking school t-shirts with some of these helpful tips.
Stand Out!
In a sea of tons of students, make sure your shirt stands out.
Consider including the top 4 important points:
1. The current year - there's several options:
» 2010
» '09-'10
» Class of '10
» Two Thousand And Ten
» 2009-2010
2. The name of your organization or school:
» Lynbrook High School
» Lynbrook High
» Lynbrook Debate Team
» Debate Team
3. The names of the people in your organization, year, etc.
4. An eye-catching logo.

Originality is key.
If you're at a large school, chances are there are competing clubs, school-years, and all sorts of other campus groups. Take some extra time to make yours stand out from the rest. Is it the amazing, hand drawn sketch of your homeroom teacher, or is our "Firecat" font so eye-catching that your club's name will shine in it? Every generic school t-shirt is going to have some version of the top 4 points like mentioned before, but having an original font or something that makes your shirt different will help yours stick out from the rest.
Bigger is better.
You don't want people to squint to understand your t-shirt. Make your shirt bold, loud, and clear, with appropriately sized images and text.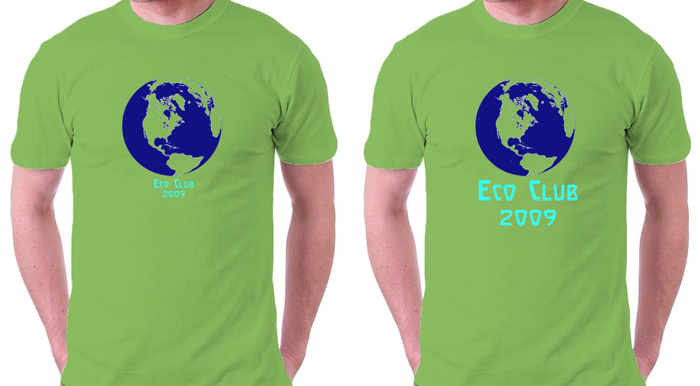 Contrast and complement colors.
White and maroon; gold and navy; green; orange and black; red and green - the list goes on and on. You can create a simple and effectively outstanding t-shirt, while only printing a two color print shirt (in other words, it'll look great and be cheap). Need color help? Email us at help@ooshirts.com or check
this
out.
Tip:
Using school colors are always a surefire way to have good contrast - why not use them as a base and expand from there? For example, if your school colors are maroon and gold, why not use gold, maroon, and white as an accent color? It seems like a small change, but it can do wonders for your shirt and create a sense of depth.