---
Artwork Requirements
Accepted File Formats
Raster Files: PNG, JPG/JPEG, GIF, BMP
Vector Files: EPS, PS, AI
Photoshop Files: PSD, TIF/TIFF
If you are having problems uploading a file, or if you need assistance converting a file to another format, send your artwork file to
artwork@ooshirts.com
.
Image Quality
Vector files will produce the highest quality results. For non-vector files, upload an image with at least 150 dots per inch.
As a rule of thumb, the higher quality the image you upload, the higher quality your results will be. The image below shows the difference between a low quality image (left) and a high quality image (right).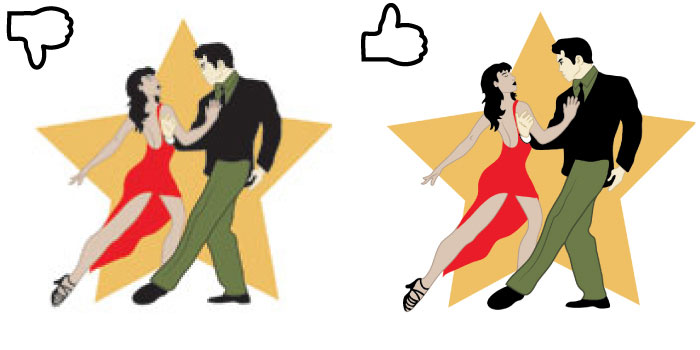 [back to top]
---
Centering Your Design
If you are uncertain as to whether you've perfectly centered your design, don't worry. Simply attach a note to your order in the "notes" section of our design app to confirm that you would like to center your design.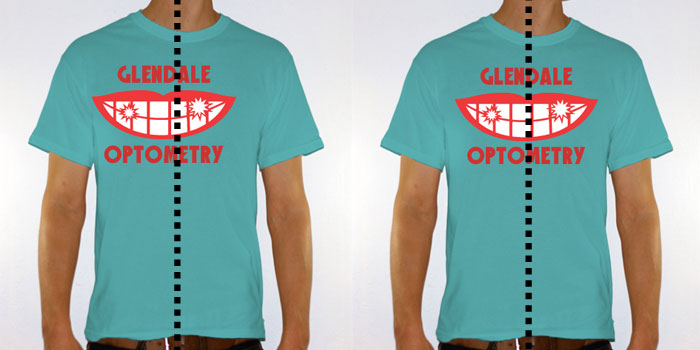 [back to top]
---
Contrast Issues
After you submit your order, we'll review it to make sure that your design will be visible when printed on your garment. If we believe your design won't be visible when printed, we'll give you a call to let you know there's a problem.
Computer monitors tend to exaggerate the contrast between colors, making certain colors seem like they contrast well even when they do not. We advise against having a design that is the same color as the garment.
Examples of poor color contrast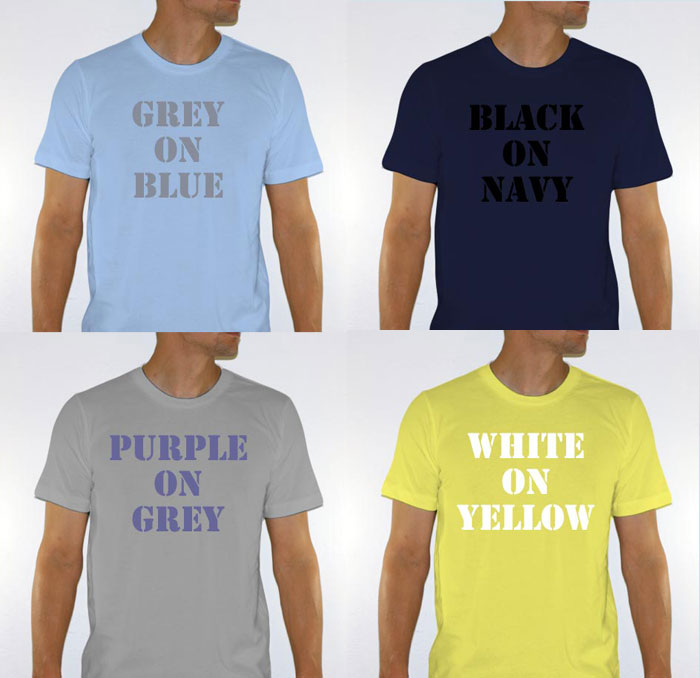 Examples of good color contrast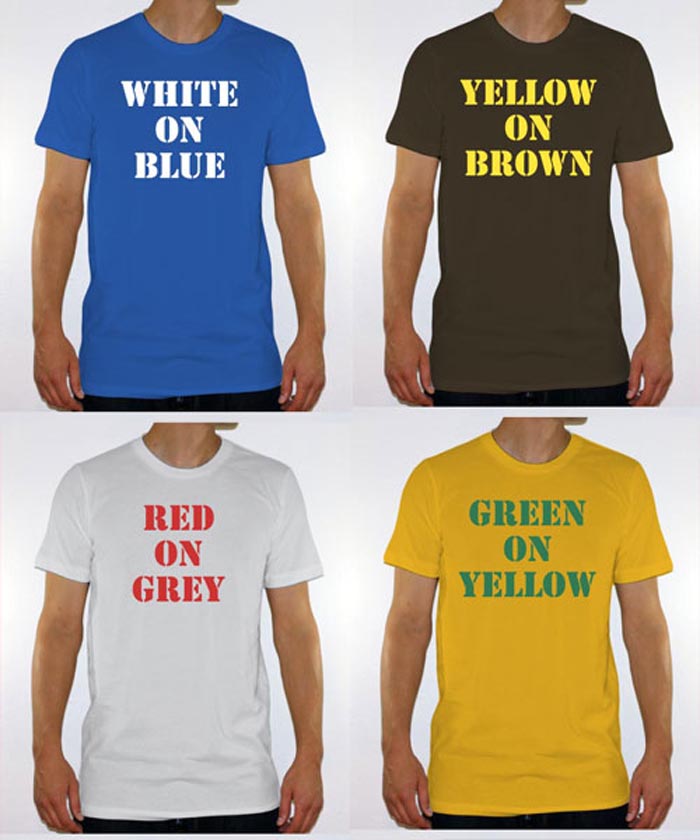 [back to top]
---
Removing Background Colors
When you place your order, our production artists check to make sure your design does not have any excess background color.
In most cases, our artists can easily determine whether you intended to have the background color removed. (In the example below, we can easily assume the background color should be removed.) If we are unsure, one of our customer service representatives will give you a call to clarify the issue.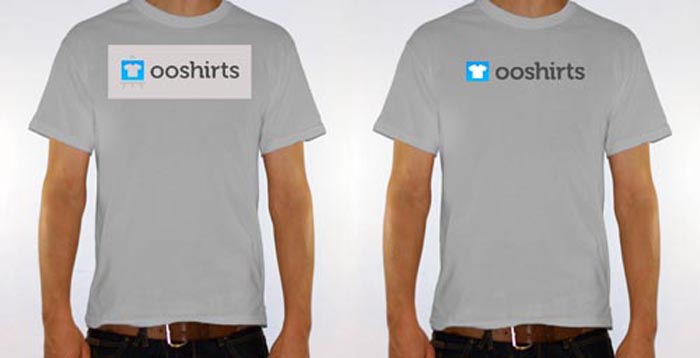 [back to top]
---
Match Colors in Your Design
Our artists can help you match the colors of different elements in your design. In the image below, the design on the left contains text that is slightly different from the color of the image. We alter the design such that the colors match perfectly, shown on the design on the right.
To request that we match colors in different parts of your design, simply use the "Add Notes" feature in our design application to describe which colors you would like us to match.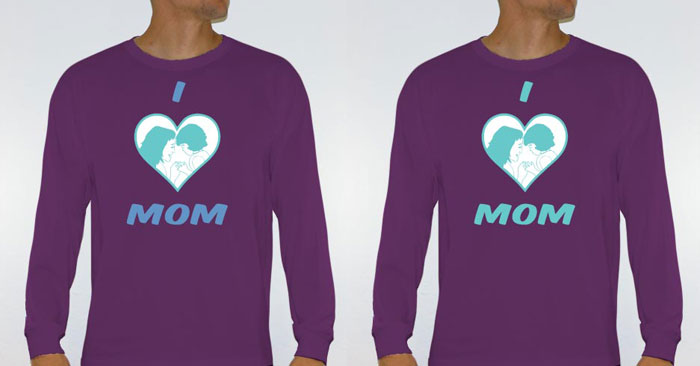 [back to top]
---
Pantone (PMS) Color Matching
If your order requires a precise ink color, we offer color matching using the Pantone Matching System:
Priced at $5 per ink color per print location
For screen printed designs only
Coated Pantone colors only (code ends with the letter "C")
To request a color match, simply create a design in our design application and proceed to checkout. In the ink color selection form in the "Additional Instructions" step, scroll to the bottom of the list to select the "PMS Match" option.
[back to top]
---
Print Dimensions
Our standard maximum print size is 14 inches wide by 16 inches tall. The maximum size will vary depending on the print location (eg. sleeves and pockets have smaller print sizes).
The images below show the common print dimensions on a basic adult large shirt. Please note that the actual size may vary depending on the type and size of the garment itself.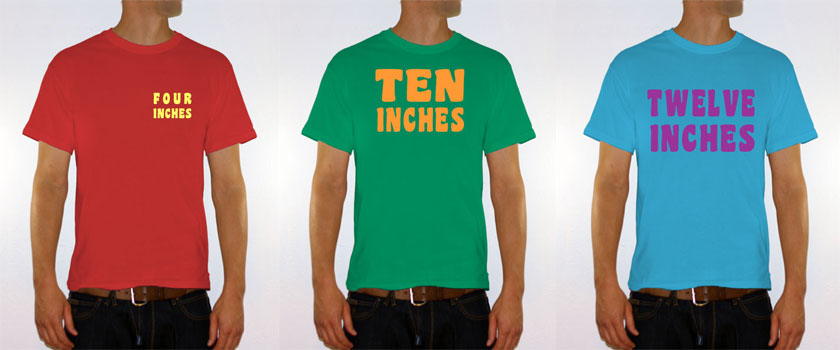 [back to top]
---
Combining Multiple Orders
Orders with Different Designs
To order different designs, you will need to place a new order for each design. However, you can
email customer support
to receive bulk discounts when placing multiple orders at once.
Orders with the Same Design
You can order the same design on multiple shirt styles. Here's how:
On our design app, click the "Quote & Buy" button at the top right.
At top right area of that panel, click the "+ Add Another Shirt Style" link.
Select the additional shirt style you'd like to order.
You can add up to 4 different shirt styles / colors on the same order.
[back to top]
---
Extra Screens
Why do I need extra screens?
Due to the nature of screen printing, the print will be the same size across all garments. As a result, for orders with a large range of sizes (eg. S to 4XL), the design will be disproportionately sized across the different shirts sizes. When you order extra screens, we will use 2 different print sizes, allowing the print to better scale to the size of the shirt.
Example: In the image below, the order is printed without extra screens. Because the design is printed the same size, it looks smaller on the adult shirt and larger on the youth shirt.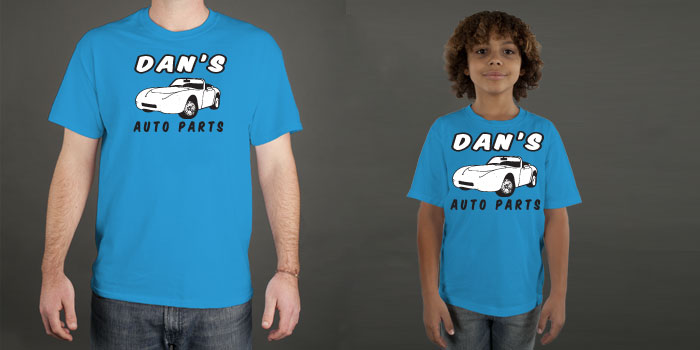 Ordering Extra Screens
To order extra screens, go to the "Additional Instructions" step of the checkout process and click the checkbox that says "Order extra screens." Extra screens cost $20 per ink color.
[back to top]
---
Shipping to Multiple Addresses
At this time, we do not offer split shipping.
[back to top]
---
Team Names and Numbers
You can order different names and/or numbers to be printed on each one of your garments.
Names cost $5 each. Numbers cost $3 each.
If you order custom names/numbers, you will need to order it for every garment in your order.
You can order custom names/numbers by clicking the "PERSONALIZE" button in the header bar of the page.
Note: The personalization portion of your design may have a different material and color than the rest of your design.
Building a Spreadsheet
To send your names/numbers data:
Click the "PERSONALIZE" button in the header bar of the page.
At the bottom of the screen that appears, click the "Name / Number Data" button.
Input the Name, Number, and Product data for each garment in your order.
Make sure the spreadsheet includes one row for every garment in your order, even if you would not like a name/number printed on the garment.
[back to top]
---
Why are your prices so low?
ooShirts was founded in 2007 with an investment of just $2000. From our founding, we had to be careful with our spending -- every dollar meant a lot to us.
In our effort to be frugal, we learned that the reason t-shirts cost so much isn't because it's expensive to print a t-shirt -- it's because most printing businesses have huge profit margins. And since nearly all printing companies charge high markups, people have become accustomed to paying more.
Our mission is to change this. Despite the opportunity to make more money, we would rather charge fair prices to more customers than charge inflated prices to fewer customers. Now, even as our shirts have reached the hands of millions, we will continue to hold the same principles that have brought us this far.
To learn more, visit
our story
.
[back to top]
---
How Your Price is Determined
The price of your order is determined based on three factors:
Style and color of garment
Number of colors in the design
Quantity and sizes
Reducing Costs
Doing any of the following will reduce your cost per shirt:
Reduce the number of colors or print locations in your design
Choose a less expensive garment
Order a white or natural colored garment
Order more garments to reduce the per unit price
[back to top]
---
How do I place an order?
To place an order, follow the steps below!
Go to our design application to design your t-shirt.
After finishing your design, click the blue "Checkout" button at the top right.
Proceed through the checkout process and pay using a credit card.
Note: We begin the
t-shirt printing
process very quickly after orders are placed. Please make sure your order is finalized and 100% correct before placing the order.
[back to top]
---
What types of payment do you accept?
We accept Visa, Mastercard, American Express, and Discover credit card. At this time, we do not accept checks or purchase orders.
[back to top]
---
How do I submit a tax exempt order?
To submit a tax exempt order, please indicate your tax exemption status in the order instructions during the checkout process. You can also
contact customer support
after your order is placed for a tax refund.
[back to top]
---
Counting Print Colors
The number of colors in your design affects the price of your order. You can determine your color count by counting the number of colors in all text and images in your design, not including the color of the garment itself.
Some examples are shown below: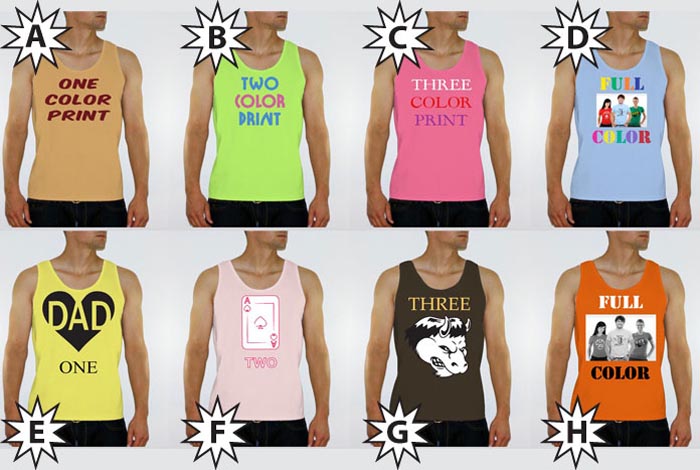 | | |
| --- | --- |
| A | 1 color design: maroon. |
| B | 2 color design: sky blue and pink |
| C | 3 color design: white, red, and purple |
| D | Full color design: the design includes a color photograph |
| E | 1 color design: black |
| F | 2 color design: white, pink |
| G | 3 color design: white, black, yellow |
| H | Full color design: even though the photograph is black-and-white, the gradients still constitute a full-color print |
If you need help counting colors in your design, give us a call at 888-257-1918 and we'll be happy to help.
[back to top]
---
Shipping Options
We offer 3 shipping options:
| | | |
| --- | --- | --- |
| Option | Guaranteed Delivery Date | Price |
| Standard | 10 business days | Free! |
| Rush | 5 business days | +25% |
| Super-rush | 3 business days | +50% |
Delivery dates are
guaranteed
, meaning that if an order arrives past your delivery date, you can return it for a full refund.
Note: The above chart applies to orders to the continental United States. Orders shipping outside the continental 48 states are charged an additional $0.95 (before rush fees) and do not have guaranteed delivery dates. They may take an additional 1 - 2 weeks to arrive.
[back to top]
---
Misprints and Late Deliveries
If your order turned out to be materially flawed, or if arrived later than our guaranteed delivery date, you can receive a resolution by filing a claim.
Claims must be filed within 14 days after receipt of your goods.
[back to top]
---
Can I cancel my order after placing it?
In order to meet our guaranteed delivery dates, we process orders very quickly after they are placed (often within minutes).
If you reach us over the phone before we begin processing your order, we can cancel the order for you.
Once we start processing your order, we are unable to change or cancel your order.
[back to top]
---
Didn't find what you need?
Please call us at 888-257-1918 or email us at help@ooshirts.com