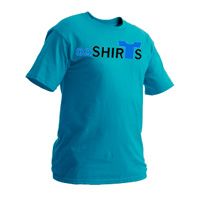 Why are our prices so low?
If you visit our
about us
page, you'd find that our business principles help us provide you with the best value.
We are really, really efficient.
Many of our customers are return customers and referrals. As a result, we spend a smaller portion of our revenue on advertising, and instead put that money into making our operations more efficient and researching ways to make higher quality, lower cost imprints.
In addition, we have over a dozen suppliers around the United States. When other companies provide you with "free shipping", they simply include the price of shipping into the order. But when we provide
free shipping
, it is because our printers are so close to you that shipping doesn't cost very much to begin with!
We get it right the first time
We have one of the lowest misprint rates in the custom t-shirt industry. By printing your shirts right the first time, we can save valuable equipment and ink. Read our recent
customer reviews
to see how others thought of the quality of our prints.
We value communication
Communication is very important, especially for customizable products. After placing your order, our graphic artists will review your design and, if they have any uncertainties about your order, give you a phone call to clarify everything. This helps us print shirts just they way you want it, and ensures the best value for customers looking for a good deal.